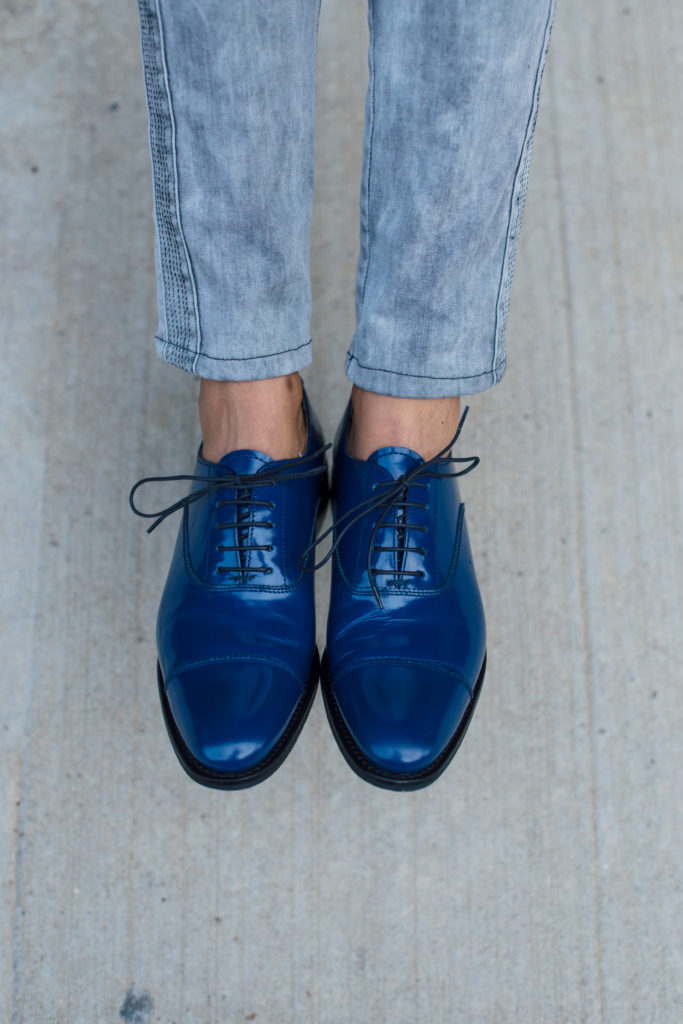 Over the last year or so I've been sporting more street wear and casual piece. Now since the temperature is dropping and the leaves are falling I thought why not fall back into dapper wear 😉
I'm very blessed to not have to shop as much these days, but when I do it always seems to be at the right time!
A few weeks ago I was out with my partner and that normally consists of me being her personal rolling rack… she picks pieces and hangs them on my hand. This time I decided to browse as well and boy was I glad I did! I found this raspberry blazer at 30% off and at check out they tacked on an additional 25% off… talk about a steal! Just two months before finding this blazer I stumbling upon these patent leather blue Church's at their Factory Store in London. What an awesome price at $89. #Winning.
I tucked a pocket square in my blazer threw on a white button up (hold the tie) and a pair of grey jeans. The crem dela crem final touch were the blue leather shoes…
Well, it's one for the money,

Two for the show,

Three to get ready,

Now go, cat, go.

But don't you step on my blue suede shoes.
—
Wearing:
Blazer Banana Republic | Size 6 | Shop here
Shirt H&M | Size X-Small | Shop here
Jeans Diesel | Size 28 | Shop here
Shades | Kapten & Son | Shop here
Watch Eone | One Size | Shop here
Oxfords Church's | Size 37 | No longer available